To Teachers
Welcome to True Spoken English.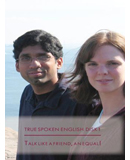 True Spoken English provides 22 lessons and over 97 video exercises that present common pronunciation changes made by native-speakers. You and your students can view all the lessons for free.
These simple lessons teach students secrets to speaking English well. They teach common pronunciation changes that English speakers make everyday in casual conversation.
These pronunciation changes are informal and rarely taught to a person learning English. But the changes are made by almost all English speakers.
After learning these changes, students will understand English more easily, and their English will sound more like a native speaker. And your students need to know the pronunciation changes to speak English well.
The True Spoken English course represents ideal supplemental material to any ESL conversational course. You can purchase the DVDs and present the lessons as teacher-led exercises, or you can make the DVD lessons available to students to view as self-paced materials on a DVD player or computer or as available in a language lab. You or your students can also purchase the True Spoken English workbooks that provide the full text and exercises presented in the lessons.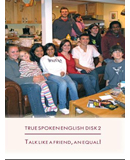 You can also have new incoming students take the online course as outside work or as lessons for individual tutorials. You can make assignments that will help students make progress in conversational listening skills and comprehension outside of class.
Busy ESL teachers find True Spoken English an excellent change of pace, one that provides structured learning and reinforcement for any conversational class. And whenever you're looking for something to finish up the last 15 minutes of a class, turn to True Spoken English and sit back and let the students enjoy it.
Can You Support Us with a Small Donation?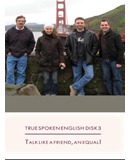 While the lessons are for free, we at True Spoken English hope that you will support our efforts by purchasing the TSE DVD set and book. Your purchase, large or small, will allow us to provide free access to other students world wide. If you consider our course worthwhile for your students, we'd appreciate your support.
Benefits to Teachers
True Spoken English provides the following benefits to your teaching:
Over 20 hours of supplemental English lessons that you don't have to plan, that you can just play.
Provides a carefully developed course in English speech that compliments any basic to advanced English course.
Use TSE to review, reinforce, and practice basic grammar as spoken in informal conversation.
Provides hours of easy out-of-class practice in spoken English.
Provides a structured video series to supplement conversation classes.
Provides practical and effective lessons that present realistic English conversation.
Provides students an easy method for working alone, at their own pace, on a serious course of conversational English.
Excite students with the ability to understand pop-music lyrics and TV more easily.
Expose students to real conversational English spoken by several native speakers in 22 short video conversations.
Provides a relaxed atmosphere of viewing interesting lessons as video exercises that can lead to further discussions.
Prepare your students to hear and understand typical everyday English when they meet native speakers in business, education, or social settings in the future.
Let True Spoken English (TSE) help you and your students
When students need a change of pace and you need a break, present TSE video lessons for students to watch and absorb. TSE lessons can be teacher led or watched individually online.
Use TSE to reinforce and expand on the basic grammar you teach. After students have learned a grammar tense, such as asking questions in the past, you can have students review and practice that grammar point in the corresponding True Spoken English lessons.
TSE is an economical video-based course that you can present to students for hundreds of dollar less than standard ESL text books or computer courses.
When you're not sure what to teach next, use the True Spoken English content as teacher led presentations or student work done on their own.
TSE teaches common everyday English as it's actually spoken. It's the real English that native speakers use, and if your students learn these changes they are closer to real fluency and less likely to be seen as "beginners."
When your students take the course and learn real English, native speakers will have more confidence in talking with them as a friend or colleague, be more at ease.
Every ESL class that proposes to teach English conversation should have TSE on its shelf. Students that finish the TSE course are more ready to speak real English with people they meet.